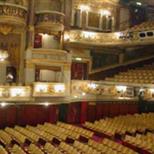 Tickets for events at Theatre Royal Drury Lane, London
The Theatre Royal, Drury Lane, commonly known as Drury Lane, is a West End theatre in Covent Garden, in the London borough of Westminster. The building faces Catherine Street (earlier named Bridges or Brydges Street) and backs onto Drury Lane. The current building is the most recent in a line of four theatres which were built at the same location, the earliest of which dates back to 1663, making it the oldest theatre site in London. For its first two centuries, Drury Lane could "reasonably have claimed to be London's leading theatre". For most of that time, it was one of a handful of patent theatres, granted monopoly rights to the production of "legitimate" (meaning spoken plays, rather than opera, dance, concerts, or plays with music) drama in London.
Parking
Single yellow lines on Russell Street. NCP on Drury Lane. Taxi Rank at Covent Garden Piazza end of Russell Street. www.parkingforbluebadges.com (Comprehensive parking and interactive bus information for Blue Badge disabled drivers travelling around London)
Step-free information
Step free access is available into the Stalls via Russell Street, which is at the side of the theatre and open 30 minutes before the performance.
Wheelchair Access
There are 2 wheelchair spaces in row K1 & K35 of the Stalls with companion seats alongside. Wheelchair transfers are available to any end of row seat in the Stalls. Access into the auditorium is via Russell Street on the side of the theatre. When booking tickets, please inform the operator whether the wheelchair has a high back or neck support as this will determine which wheelchair space is allocated.
Hearing Systems
The theatre uses the Williams infra-red headset system and 10 headsets are available from the front of house staff in main foyer. These headsets are for people who are hard of hearing, please note there is no induction loop system in the auditorium for hearing aid users. There is an induction loop at the Box Office to assist hearing aid users when booking tickets. For further information regarding hearing systems, please call the theatre stage door on 0207 850 8790.
Guide Dogs
The theatre management are happy to look after your Guide/Hearing dog during the performance. Please approach a member of the front of house team when you arrive at the theatre and they will make the necessary arrangements.
Autistic Spectrum Info
The theatre would be grateful for any additional information regarding your needs prior to going to the theatre, especially anything regarding sensory issues or matters relating to Autistic Spectrum Disorder. Please feel welcome to call the theatre management on 0207 850 8790 so they can offer you more assistance throughout your visit.
General Access Info
/